On the 25th of June, 2012 I made a usual flight lesson in the Piper Cub. This time I was in the 65hp Cub, N77500. At the beginning of the lesson, I met with my CFI Joe and we did a short ground school session. He quizzed me on the aerodynamics section of my Jeppesen Private Pilot book. I did pretty well, so we went out to fly.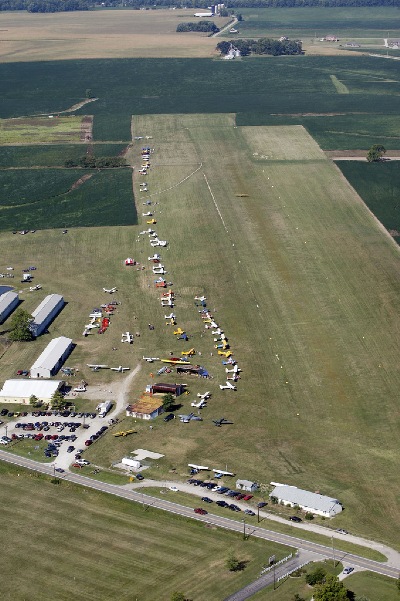 Red Stewart Airfield. Not my photo, taken during fly-in in 2008.
We pulled the little Cub out of its hangar, and got ready to start up. After the preflight walk around and such, I prepared to climb into my seat in the back of the Cub. Contrary to the usual lesson, Joe asked me to "prop" us. This was my first time, so I have to admit I was a little nervous. Joe showed me the basics, and I got the Cub started on my first try. The wind was shifting, but was mostly out of the North. We departed with the door open on runway 26 just to get us in the air sooner. After we departed, we took the Cub up to 3,000ft over Caesar's Creek. The air temperature should only change 3.5
°
F/1,000ft, but after going up on 2,000ft the temperature had to have dropped a good 20 degrees and we had to close the door to stay warm. I then turned around, and we went headed back to Stewart.
On the way back, we were a bit high, so I did a easy forward slip to get down quicker. As we went straight into runway 26, the wind sock moved and we had a little tailwind too. But I decided to keep going on the approach. I touched down a bit long but I handled the crosswind good with a side slip. After the first landing, we taxied down to the other end of the runway and took off the other way. We then did 6 more landings. The first 5 were either a little firm but dead center, or soft but I drifted because of the crosswind.
The last landing was really a great moment. The approach was beautiful and my side slip was perfect. I greased the landing dead center and Joe was very impressed. This was when he said that now I am really "flying." On the way back to the hangar, Joe told me that I should start flying the Cessna 150 instead of the Cub so that I can get the required stuff for my Private out of the way early before my first solo when I'm 16.
Overall, Joe was very impressed with my flying that day. I'm really looking forward to my next lesson!
This Flight:
.8 hours, 7 landings, 7 takeoffs, N77500, 40I-40I
Total hours to date: 12.6
GoPro HD HERO2 Outdoor Edition
I use it for my videos, buy it here!